What is the Best Security Camera System to Monitor a Construction Site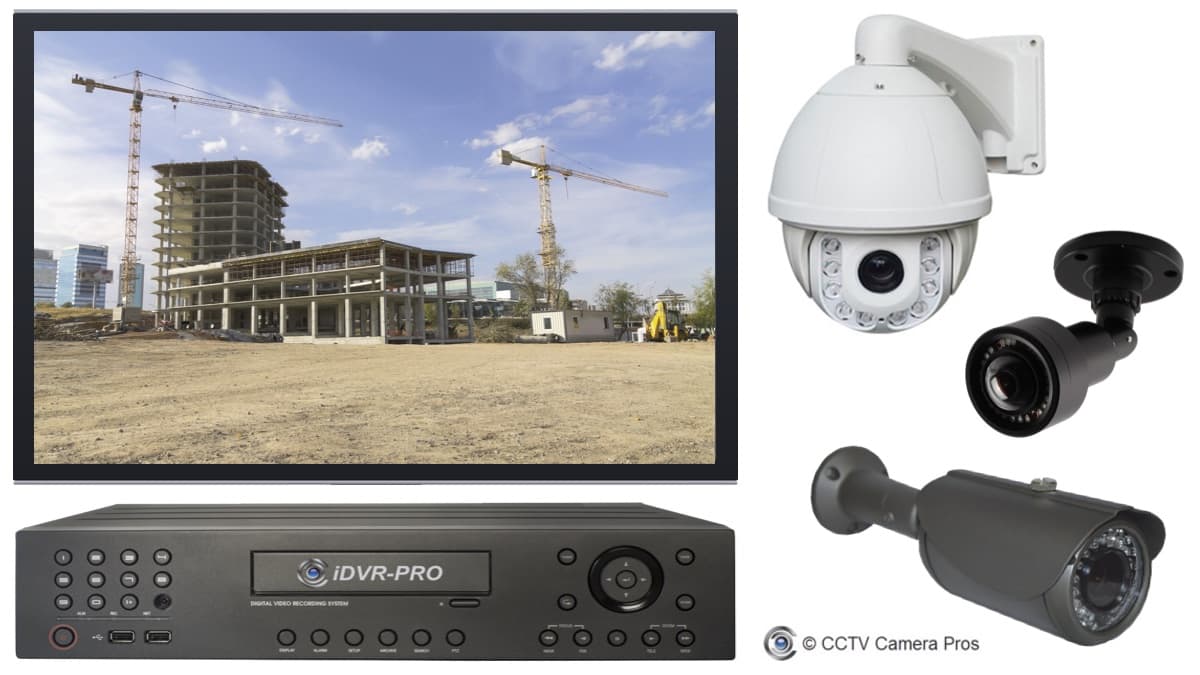 I am frequently contacted by construction companies and managers seeking advice on how-to select the best security camera system to monitor a construction site. In this article, I will discuss some of the common requirements, challenges, and solutions for using a video surveillance system in an active construction zone. Most of the camera systems that my company supplies to construction companies are custom. Some customers prefer to schedule a free phone consultation with me instead of researching equipment on their own. If this sounds like you, please This email address is being protected from spambots. You need JavaScript enabled to view it..
Common Uses
In my experience, the three most common uses for a construction site security camera system are as follows.
Keep Building Materials and Construction Equipment Secure
Project Management / Remote Site Monitoring
Live Video Streaming or Time-Lapse for Marketing / Promotion
---
Selecting the Best Camera
Here are some things to consider when selecting the best security camera to monitor a construction area.
Weatherproof / Rugged Camera Housing
It is obvious that a weatherproof housing is a must for a construction site, but not all housings are created equal. IP Ratings (Ingress Protection) is established by the International Electro Technical Commission. This is the standard that determines just how weatherproof a camera's housing is. It is noted with a two digit code. You can refer to this page for a complete IP ratings table and description. The most weatherproof security cameras have an IP68 weatherproof rating. I recommend a weatherproof rating of at least IP66 for a construction site camera.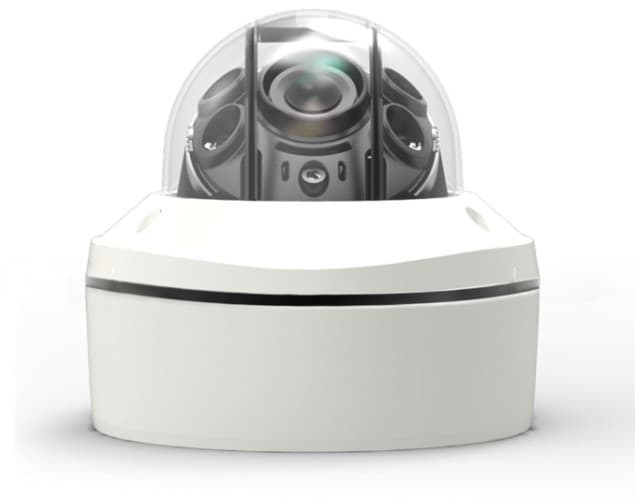 https://videos.cctvcamerapros.com/wp-
This infrared dome security camera is an excellent choice for a construction site. The dome enclosure of the camera is IP68 rated. These domes are also known as vandal proof domes because the base is metal and the plastic dome is a hard polycarbonate plastic. They will be resistant to tampering and flying construction debris.
---
Infrared Night Vision
Many construction sites do not have a lot of night time lighting which makes infrared security cameras a great choice. They allow the camera to operate in normal, low light, and zero light. Just as not all camera housings are created equal, not all infrared capability is either.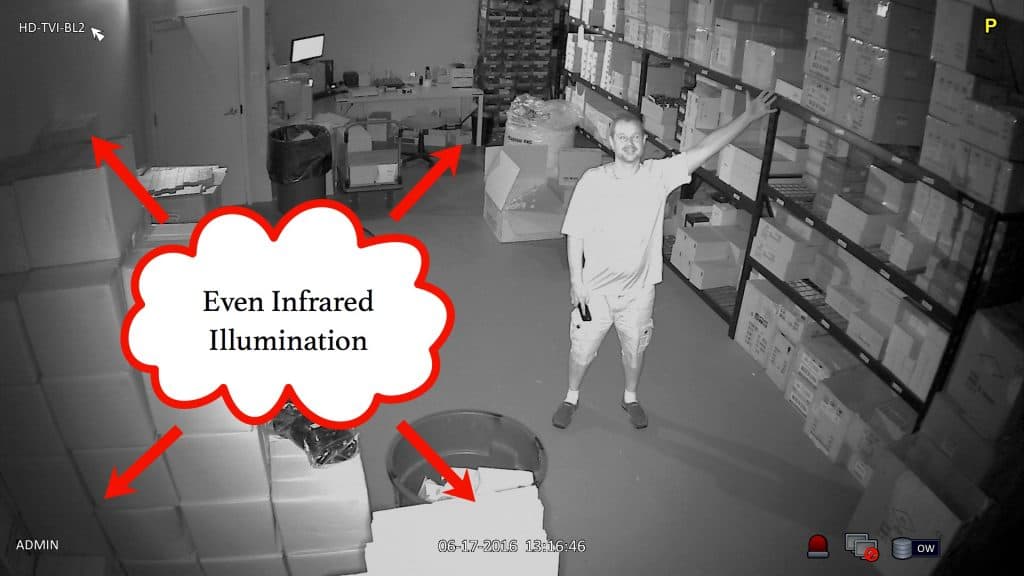 The best infrared CCTV cameras have built-in "Smart IR". Smart IR automatically adjusts the illumination intensity that the cameras infrared LEDs provide based on the proximity of objects (such as people) approaching the camera. The best infrared cameras have an evenly balanced illumination throughout the entire image that they are capturing. Notice in the above screenshot how the entire image is illuminated, not just a circle in the middle of the image (as many cheap cameras will only provide). This image was captured using this high definition infrared security camera. You can learn more about Smart IR for security cameras here.
---
PTZ Cameras
If you need to remotely control your camera to adjust the direction and lens zoom, a PTZ camera (pan tilt zoom) may be a good fit for you.
Watch the above video to see a demo of this 20x zoom infrared PTZ camera. This camera can be remotely controlled from iPhone and Android mobile apps when the camera is connected to an iDVR-PRO recorder and an Internet connection. The camera can also be controlled locally using the DVR or remotely using the Mac or Windows software that is included with all iDVR-PROs.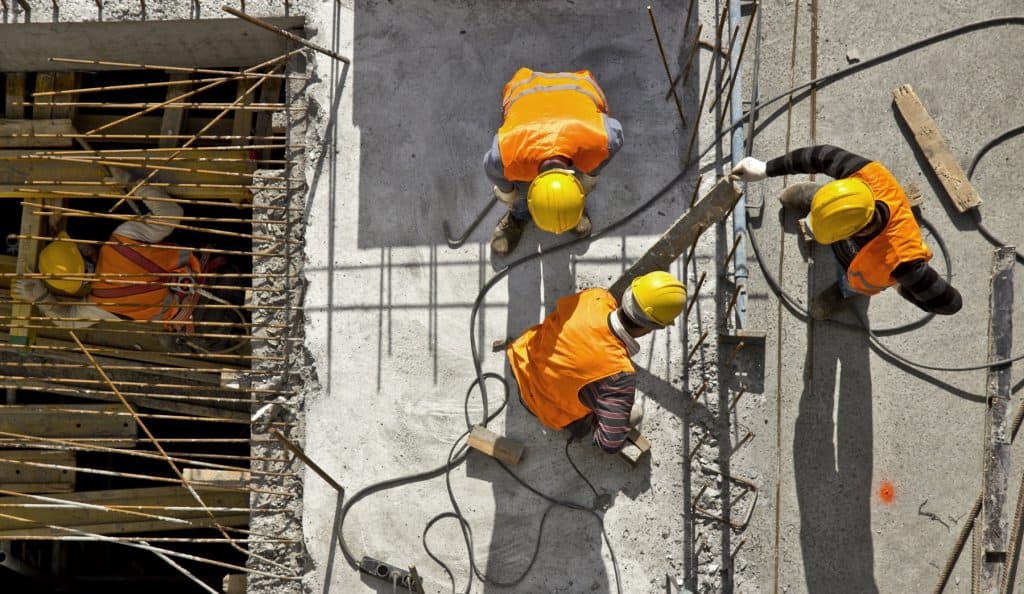 A PTZ camera can zoom in close on specific areas of construction. Project managers can remotely access cameras to check in on progress of the project.
---
Selecting the Best DVR
Besides being able to record high quality video, here are some features that construction managers should consider when shopping for the best video surveillance DVR.
Easy to Use. No one wants to fumble around with new devices to try to figure out how they work. Watch this video to see a surveillance DVR that is extremely simple to use.
Excellent Remote Viewing Software and Mobile Apps. If you intend on monitoring your site remotely, be sure to select a system that includes desktop software and mobile apps on the platforms that you use. Also consider if you need only a live security camera view or also want to be able to playback recorded video remotely. These apps are all outstanding and able to both live view and playback recordings.
Alarm Sensor Integration. If you want your surveillance system to trigger alarms using burglar alarm sensors, be sure to confirm that the DVR has digital inputs that work with the types of sensors that you want to use. For example, you may want to use an outdoor PIR motion detector to trigger a push notification to your mobile phone to let you know that someone on-site or in a certain area. You can learn about setting up alarm sensors on a security camera DVR here.
---
Wired vs Wireless Systems
Running cable can be a challenge on a construction site. I only recommend wireless camera systems as a last resort when video cable absolutely can not be run. Hard wired systems are far more reliable and easier to setup. Please keep in mind that wireless security cameras still require a power source that is almost always hard wired. If you are unable to run cables for your system, I recommend that you This email address is being protected from spambots. You need JavaScript enabled to view it..
---
Live Streaming Systems
The team at CCTV Camera Pros can help construction companies setup camera systems to live stream video on Facebook and YouTube.
If you want to use a live video feed to promote your project on Facebook or YouTube, we can help. Please check out this article on how to use HD security cameras to live stream video on Facebook and YouTube. The cameras in these systems can be used for both security and promotional live video streaming.
---
Time Lapse
Long term construction projects are fun subjects to capture using time lapse photography. I documented how-to use a Zavio IP camera for time lapse video here. There are outdoor Zavio cameras available that have this snapshot functionality needed setup time lapse. Many of them are weatherproof and rugged, making them good choices for a construction time lapse project.